Success Stories
Wanna take a peek at the magic my clients and students are creating?
P.S. every single success story is from someone who paid 100% out-of-pocket for my courses or coaching. 'Cuz when you invest in yourself, that's when the magic happens!
Interior Designer & Founder of Kristy Vail Studio
"From the moment I hired Kelly as a business coach, I knew my life was about to change. She helped me with everything from my mindset around being an entrepreneur to making a plan to take my business full time to creating a simple + clear website and seriously everything in between.
If I could describe Kelly in three words it would be: joyful, innovative and supportive. I would highly recommend her coaching for anyone who's serious about wanting to elevate their lives - she will hear your dreams and hold you accountable!"
CASE STUDY
FROM A 9-5 TO GOING FULL-TIME ON HER BIZ in 2 months + Now outearning her CORPORATE salary as a life coach
Kristy Vail is one of my all-star clients. In two months of working together, she quit her job and went full-time on her business. Together, we turned her idea into a full-blown business, created her packages and pricing, and launched a stunning website that showcased her innate talent. Plus, I gave her a bespoke marketing plan so she could start attracting clients to her new offerings. As a result, she scored her first client, got so many more, and went on to launch the Connected with Kristy Vail podcast which hit the iTunes' New and Noteworthy list within weeks of its release. Kristy has been one of my long-term coaching clients who I worked with privately for almost a year. I've seen her business go from just an idea to now out-earning her corporate salary. Sometimes even by 2x or 3x per month. How incredible is that?
"Working with Kelly has been one of the most amazing things I could have done for my business at this point. She's so amazing, motivational and her passion for what she does is so inspiring. She believes in her clients so much, that even if you don't believe in yourself, at the end of the sessions with her, you will certainly do! She's supportive, she asks the right questions and she makes sure you get things done! So no hiding behind excuses, she won't allow that which is great! So much results in such a short period of time! We worked mainly on redefining my coaching packages and understanding my niche and ideal client in more depth. I honestly couldn't have done all that work without her help! She helped me create the backbone of my business which are my packages, and I feel much more prepared to share my magic with the world! Thank you for your support Kelly, you're awesome!"
CASE STUDY
QUIT her full-time job in 1 month, celebrated with a paris trip + ALMOST MATCHING HER CORPORATE SALARY within 2 months of working Full-time for herself
Ange was working full-time in a corporate gig and wanted to work full-time for herself. She already had a life coaching business established and several clients but wanted a plan to earn enough money to only work for herself. Together, we built 1:1 coaching packages with clear outcomes for her ideal clients, solid deliverables so people understood what they would get in return for coaching, and the right pricing that reflected Ange's value and expertise. In addition, we validated her packages with her target market to ensure that they would sell. As a result, within one month of working together, Ange quit her full-time job! Then, she sold two packages right away and celebrated her transition to working for herself full-time with a trip to Paris! In the following two months, Ange's business income from coaching and teaching yoga almost matched her corporate monthly salary.
Life Coach, Yoga Teacher + Meditation Guide
"I am so grateful for Kelly for having created the most amazing course I have ever purchased. I'm taking some much out of this course, applying on my own business and watching the changes unfold. Kelly is a badass when it comes to the mindset stuff and business strategy. She is also so inspiring, encouraging and kind. This is no ordinary business course. It goes way beyond everything I have ever seen out there. Thank you Kelly for being so generous and sharing your knowledge with the world! Your Conscious Empire is working like a bible for me. It's like a roadmap, I love it and literally all of Kelly's secrets are here. I used to think it was expensive + now that I'm in it, I don't think it's expensive anymore."
Graphic Designer + Founder of Sundai Studio
"I absolutely loved working with Kelly one on one in our private intensive! She is so efficient! In just three hours we were able to discuss my zone of genius, create two detailed packages for my graphic design business and create a financial plan to leave my full time job. It was so nice to dedicate three hours on brainstorming for my business and to be able to bounce ideas off of someone so experienced and intelligent. Kelly is attentive and focused and she wants you to succeed. You can feel it! I had a major breakthrough moment on the call after we put together a package that I never even considered. She checked in multiple times to make sure everything we were discussing was still aligning, which I so appreciate. She was patient and open while guiding you towards a clear path for your business. As a creative who was at times insecure about my business skills, Kelly was the perfect match for me! I feel much more confident now."
CASE STUDY
QUIT her full-time job in 6 weeks, launched a COMPLETE business, scored an influencer as a client
Jena worked a full-time job and was running a small graphic design business on the side. When she came to me, she had no packages or formal offerings and was just taking freelance work. As a creative, she was really insecure about her business skills and before investing in Your Conscious Empire, she was unsure and confused. Within 6 weeks of enrolling in Your Conscious Empire, she created a brand-new website her website with stunning photos and compelling copy, got clear on the niche audience she was meant to serve, nailed down two robust graphic design packages that her target demographic would love, registered for an LLC, established legal agreements, set up her bookkeeping, and created a social media marketing plan. In that timeframe of ONLY 6 WEEKS, Jena also handed in her resignation letter at her full-time job. Plus, Jena scored her first paid $1000 client and went on to work with Jess Lively as a client. (How cool!)
"As a creative, I used to be really insecure about my business skills. Before I invested in Your Conscious Empire I was scared, unsure and confused. I was excited about having my own graphic design business but I was stuck on what steps to take next! Every week as new content was released, I watched the modules and did the work diligently and I'm so happy I did! I'm so grateful to Kelly and this course! Kelly creates a roadmap for you that is easy to follow, comprehensive and chalk full of the resources that are so necessary when you're just starting out. My advice: Invest in this course and actually do the work! If you do the work, you create momentum for yourself. The more actions you take the stronger your trust muscle becomes. I'm so excited to continue to refer back to this course as my business grows and evolves. I definitely believe that this investment was worth it! Kelly made me feel supported, free and ready to put myself out there."
Coach, Podcaster + Founder of Airy Fairy Feminist
"Your Conscious Empire is the only high vibe, fun-loving, business school I would ever want to attend. Kelly breaks down (sometimes intimidating) business concepts into bite size, actionable chunks, and I cannot believe how much beautiful content is included. Kelly lays it all out. I am embarking on my dream business of supporting women on their journey to radical badassness and with the marketing and business tools from Your Conscious Empire I am confident that I will thrive in supporting my clients."
CASE STUDY
In 6 months, went from just an idea to an entire business with CLIENTS, a podcast, an online course + quit her full-time job to work for herself
Charlotte Kaye was working a full-time job and enrolled in Your Conscious Empire so she could start her own digital business. At the time, her business was just a dream. With the knowledge she learned, she launched a full website complete with 1:1 coaching packages, started the Airy Fairy Feminist podcast, and crafted her own online course called "Be You." And, within 6 months of enrolling in Your Conscious Empire, Charlotte was able to quit her full-time job and work for herself exclusively. How incredible is that?
Virtual Interior Designer, Stager + Stylist
"Hiring Kelly as my coach was the easiest "yes" I've had as an entrepreneur! Her one-on-one coaching allowed me to dig deep and harness my skills so I could present a clear message to the world. Working with Kelly has given me the tools I need succeed in mastering my mindset and developing a well-marketed business."
CASE STUDY
FROM IDEA TO an entire BUSINESS in 2 months, scoring her FIRST paid CLIENT + now working for herself full-time
After blogging for years on Life with Zan, a lifestyle and design blog, Zan Farrow wanted to turn her ideas into a digital business and desired to work full-time for herself as an interior design and stylist. Together, we found her genius and nailed down her unique product offering. Then, we turned it into formal packages and pricing, set up her full digital business, launched her gorgeous website, and gave her a marketing plan. As a result, Zan launching scored her first virtual design client and she was well on her way. In addition, Zan went on to launch her first ebook, The High Vibe Design Guide, and now works full-time for herself.
Virtual Interior Designer, Stager + Stylist
"Your Conscious Empire has all the fundamental business practices, Kelly has incredible tips and tricks, and it even goes into the mindset work. Kelly is a great coach, I totally resonate with her, and working with her has totally paid off. Your Conscious Empire is worth WAY more than what Kelly's charging! I'm serious! There is so much information, it's so valuable, and it's so easy to implement. Everyone needs that. I feel light years ahead already!"

Blogger & Founder of Lauren Natalia
"Coaching with Kelly was such a fun and motivating experience. As someone who already has a lot of drive, but just needed a little more guidance and external accountability, it was exactly what I needed. Kelly is great at breaking down big tasks into manageable goals and helped me to rebrand, completely revamp my website and create my online video course in the space of two months, all in a really fun, flowing way. Kelly is a master at helping you work through mindset blocks, as well as providing loving, kind feedback and advice paired with the specific actionable steps that will move you forward. She has such a talent for seeing potential and bringing out the best in people and I'm so happy I decided to hire her as a coach as she provided me with all the support and accountability I needed to really get things done!"
CASE STUDY
FROM A HOBBY BLOG TO THE FOUNDATIONS OF A BUSINESS + MINI COURSE
Lauren Natalia was a part-time style blogger for 6 years (as she worked as a dentist!) She wanted to get her blog in a position where she could start monetizing it. In coaching, we pinpointed her niche to helping busy women find a more mindful, meaningful style and look effortlessly pulled together everyday in a flash so she knew her target demographic and who she was speaking to. Then, we elevated her branding with a new name, imagery, photographs, logos, and a website website that showcases her professionalism and eye for good taste. We also worked on how to position her as the style expert she is and making sure people saw her as a trusted leader in her space. As a result, she launched her new "Find Your Style" online course and is growing her email list, following, and fanbase. She's all set up for monetization!
Blogger & Founder of Lauren Natalia
"Kelly is the perfect teacher for anyone wanting to start their own "thing" in the online world, but who just isn't quite sure how to go about it. I love her teaching style, I knew she had really valuable advice to share, and I knew that Your Conscious Empire wouldn't just be "fluff" that I could easily find myself elsewhere. I really loved how it's helped give me direction. You can tell from everything Kelly puts out that she has really high standards and takes a lot of pride in her work, and this was definitely the case for this course - it is jam packed with great content. I decided that it was time to give my entrepreneurial dreams a chance! Now, I feel so much more confident and clear."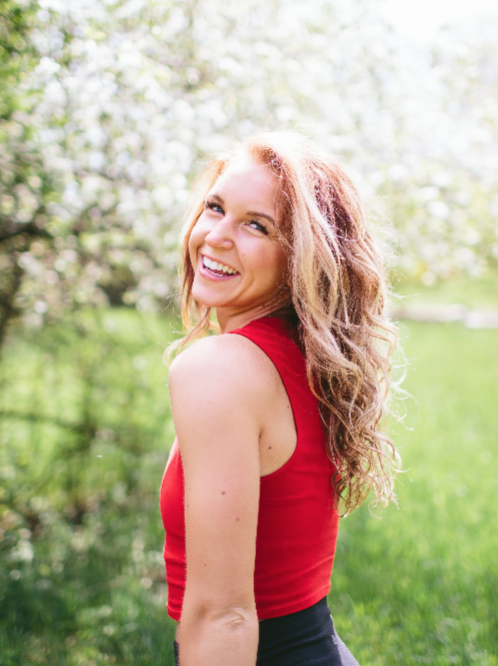 Health Coach, Podcaster & Founder of True Wellness Collective
"Before taking the course I had no idea what direction I wanted my business to go or what I even wanted to offer. I was lacking confidence and only had a blog. After taking the course, I got clear WHO and WHAT I want to be offering. I was able to create several package options for health coaching clients. Now that I have set rates and packages, I'm able to attract more paying clients. It's become a business compared to just a blog. Additionally, the course helped me gain confidence and learn how to communicate in the best way to share my message. Before the course, I was terrified to start a podcast and afterwards I was practically sprinting to get things up and running! I now have a podcast called True Wellness RX that I absolutely LOVE. Happy to say I am the proud owner of True Wellness Collective LLC and making my way to financial freedom!"
CASE STUDY
FROM A BLOG TO A BUSINESS: PACKAGES, MORE PAID CLIENTS + A PODCAST
Hanna Schultz had a health blog, but didn't know how to turn it into a business or what she wanted to offer. After enrolling in Your Conscious Empire, she discovered WHO she wanted to serve and WHAT she wanted to sell. With the knowledge she learned, Hanna transformed her blog into a full business complete with 1:1 health coaching packages, pantry clear-out services, and grocery tour services. She also launched the True Wellness RX podcast. Plus, she's created consistent (+ gorgeous!) branding that reflects her passion. Most importantly, she's been able to attract MORE paying clients with her new set rates and packages. Hanna is now the proud founder of True Wellness Collective and making her way towards financial freedom.
"I am so glad I said yes and hired Kelly as a business coach for her private intensive offering. She was exactly what I needed to propel my ideas and business forward. During our session, we were able to reach total clarity on my vision for the business and mapped out two detailed packages for my clients, including prices. I had spent months considering options and within a few hours we were able to nail down the details with excitement and confidence. Kelly has an innate skill of asking the right questions to get you to prioritize, as she knows what's needed next. She offers loving and clear feedback. She knows her stuff and has the ability to make you feel focused, accountable with a clear path forward while offering kind support along the way."
"This course is a must for those who wish to begin their own digital business and don't know where to start. There is so much great information through videos, scripts, workbooks and exercises. This course has provided me the road map I needed to start my website, figure out who my ideal client is, have an understanding of the details of business such as legal forms, accounting, how to verify my ideas and much more!"
"I want to urge everyone considering coaching to HIRE KELLY! I used to think those who are living their dream lives and running their dream businesses are cut from a different cloth, and that I'll never be able to have all of that, but Kelly proved me wrong on all fronts. She taught me that the only difference between people who have a dream and those that are living their dreams is that the latter take consistent action to manifest their dreams and build out the life they want.

From the start of coaching, I really felt like Kelly saw more potential in me than I ever knew was possible. She has been the number one expander for me in showing me how to create a life of authenticity and freedom, and make money doing so! I can't believe we went from a vague "I want to start something" at the beginning of coaching to a fully ready podcast, website, and freebie by the end of it. And I've never felt more aligned with the work I want to do. I'm so grateful for this experience and excited for what's to come!"
Lifestyle YouTuber & Wellness Blogger
"Kelly really is a master at the mindset work. I'm so glad I signed up to the Your Best Life course because I resonated with her energy and way of speaking. I love the personal stories Kelly gives to back up her teachings, it makes it so relatable. If you're like me and are someone who likes to have implementable steps on how to start moving forward and changing your life then this is the course for you. Get ready to live your best life!"
"With Your Best Life, I learned that I have all the possibilities within me, that I needed to understand what old stories I was telling myself, and what previous identities I was clinging to that made it difficult for me to move forward. I've learned how to let go and tune-in to what I most need. Your Best Life helped me understand that I needed to let go of what no longer served me and I realized I needed to leave my job. I now felt more confident and became attuned to the chaos that I'd blocked out for years. Kelly is so insightful, compassionate and positive. I feel so much happier and fulfilled since I've gone on my journey with the guidance of Kelly."
Blogger & Founder of Lauren Loves Laughter
"Your Best Life is a course that has been truly life changing for me. Not in the sense that I have made big dramatic changes to how I live, but in the way that it has helped change my mindset, giving me an incredible sense of freedom, peace and appreciation for where I am right now, as well as excitement for what's to come (and the confidence to make it happen!) The course is well thought out and structured in a way that is easy to digest and implement in your everyday life, and Kelly's inspiring energy, paired with her warm and uplifting teaching style raises you up and helps you to meet her there. With practical steps that you can apply right away, backed up with relatable examples and funny anecdotes from her own life, the videos are packed with solid content, as well as being an absolute pleasure to watch. The workbook is also a hugely valuable guide, walking you through the process of uncovering your limiting beliefs and then releasing them, getting clear on your boundaries so you can actually implement them and just generally allowing you to master the mindset work so you can fully step into who you really are. From feeling more fulfilled in my work to improving relationships, Your Best Life has honestly left me feeling so content and inspired! I am so happy I took the plunge and joined this course, it has been one of the best investments in myself I've ever made and I highly recommend it if you are considering signing up. Whether you're planning big life changes or just want to feel more confident and free right where you are now, you will love this course!"
Founder of Julianne's Jems + Business School Student
"After listening to module 3 on self-worth in Your Money Mindset, I realized that with my low paying jobs I was not owning who I am. So, I just took a huge leap, resigned + quit a job. It's truly liberating to know that by doing this, I am creating energetic space and time for my own business to manifest."
Wanna Share Your Win?
Be my next testimonial